SC60 Scope Pocket Watch from Cathode Corner


IN DEVELOPMENT - QUANTITIES LIMITED - INSTANT MUSEUM PIECE!

The photos below show the prototype watch. The finished unit
will have an anodized case, a professionally-assembled battery
pack and a charger jack.





The SC60 pocket watch provides all the features of the SC100 Scope
Clock, but in a shirt-pocket-sized metal package.

The time is displayed on a tiny 3/4" diameter screen at the press of
a button. (Well, you do have to wait 10 seconds for the tube to warm up.)

This watch is powered by a rechargeable NiMH AA battery pack. Battery life
is short when operating the display, so it turns off automatically
after half a minute. The ON time can be extended by pressing the display
button again.

The deep-drawn aluminum clamshell case is hinged to open easily, since
you will have to show the insides to all your friends.

The circuitry is basically identical to that of its bigger scope clock
brother, but made using modern small surface-mount parts. Click on the
photo below to see a BIG photo of the insides.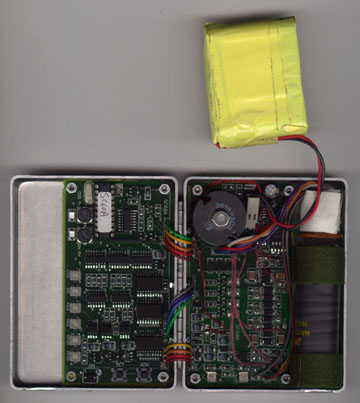 Specifications


Digit size: 0.2" (5 mm) tall
Size: 1" tall x 3" wide x 4" deep (25mm x 75 mm x 100 mm)
Weight: Same as a US can of Coke - 12 ounces (350 g)
Battery: 4x4/5AA NiMH 1200 maH rechargeable pack
Battery life per charge: approx 1.5 hours runtime

Not available in kit form. I will install your 3/4" CRT into a watch,
if you have one such as 1DP1 or 1DP11.