ESC4-A 4 channel motor driver board for NURC ROV
If you came here after reading the Feb. 2010 SERVO magazine article about notBob, please take a look at our new ROVotron control system we have designed for this year's contest. It's located on this page.
This board provides control of up to 4 big DC motors, 6 servos and one switched 12V device from a vEx PWM signal and a 48V power source. It is optimized for low cost, flexibility and high performance. A Xilinx programmable logic device (CPLD) allows reconfiguration for custom requirements.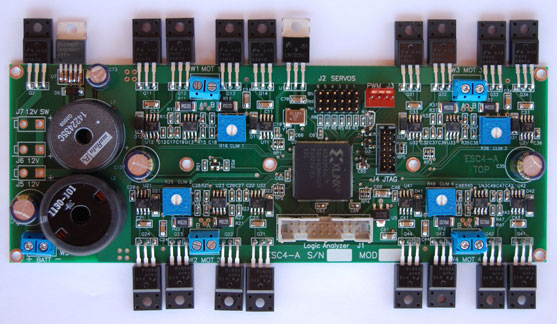 Features
* Powered from 48VDC at 10 Amps to allow use with a lightweight, low cost 16 gauge tether cable
* Powers and provides bidirectional speed control for up to four 10 Amp, 12V motors
* Powers external 12V devices up to 2.5A total current, including one switched output
* Provides 5V servo motor power
Power and signals
DC power input: up to 48V nominal at 12A maximum on screw terminals
Control input: One or two vEx PWM signals on a 4-pin Molex header
DC power outputs: 12V at up to 2.5A total current (shared with switched power) on two 2-pin Mini-fit Jr. connectors
Motor outputs: Four 10 Amp PWM motor speed controllers on 2-pin screw terminals
Servo power output: 1 Amp at 5VDC (shared with 12V power) on six servo 3-pin connectors
Relay outputs: One 12V switched power output, up to 2.5A total power (shared with unswitched 12V power) on a 2-pin Mini-fit Jr. connector
updated April 11 and ©2010 by David Forbes